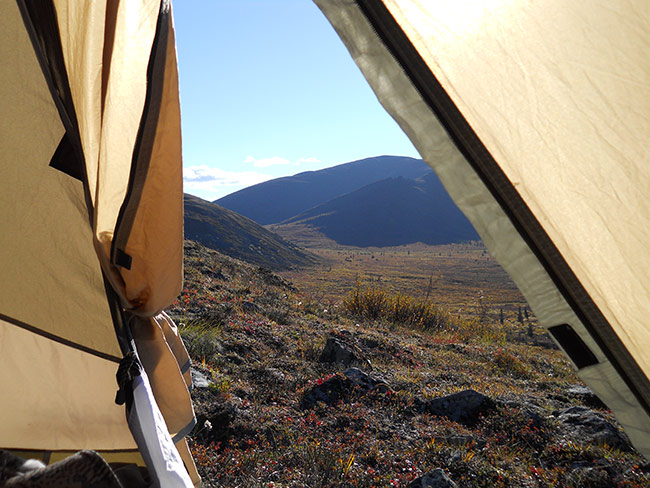 Around Camp
Hunting license, harvest ticket/permit in Ziplock bag
Current Hunting regs
Spotting scope
Binoculars
Trekking poles
Camera
Rifle and shells
Lightweight Kifaru or Stone Glacier backpack
Hunting knife
Wyoming Bone Saw. (It has a blade for bone and one for wood)
Pocket Diamond steel
50' parachute cord
Sleeping bag rated 0'F to -10'F. Down is lighter than synthetic. Place a plastic compactor bag inside the sleeping bag stuff-sack and then stuff the sleeping bag into the plastic bag.
Lightweight sleeping pad
2 ea. Lightweight Small Tarp
Lightweight, high quality, 3 or 4 season mountaineering tent. We recommend Kuiu, and Mountain Hardware.
Stove and proper stove fuel
Titanium pot
Lightweight cup
Spoon
Water bottles
Collapseable water container, 2.5-5 gallons
Toilet paper in water proof bag
Bug dope with deet
Hand towel or cloth
Medication
Basic, lightweight First-Aid kit
Head Lamp with extra batteries
Cigarette lighters
Lightweight folding camp chair
Reading material for tent bound weather days
Game Bags: We recommend TAG bags from Pristine Ventures. Only 50lbs of meat per bag! Caribou: Buy 1ea, BOMB kit per caribou. Moose: Require 14 TAG bags. 11 ea 18x30, 2 ea 14x20, 1 ea 28x60 for the cape. European mount: 1 Large cheese cloth to wrap head. Make sure and bring tarps for the meat.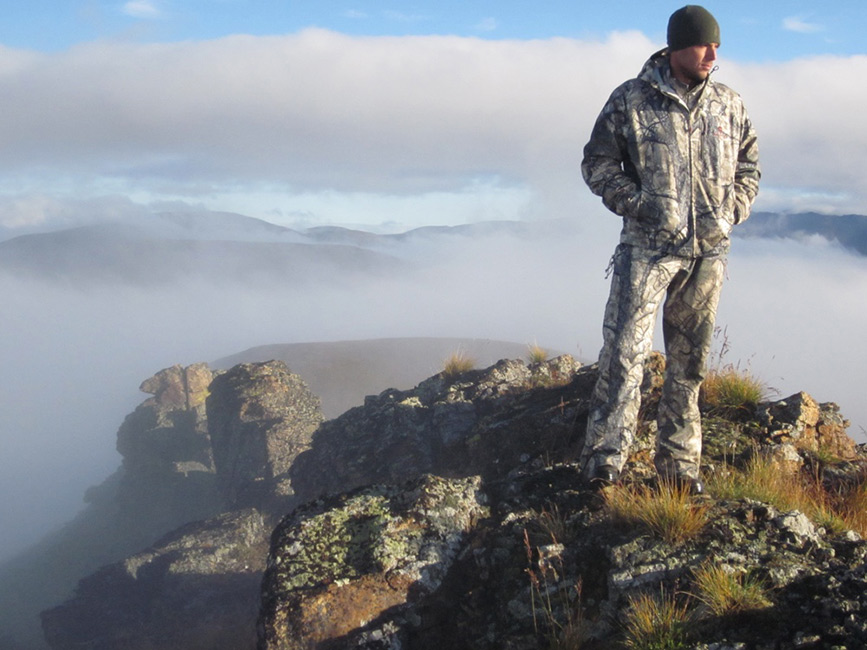 Clothes
High quality leather boots - well broke in.For sheep hunting consider plastic boots and glacier socks. For September hunts we recommend insulated leather or plastic boots.
Three pairs thin liner socks
Three pairs heavy wool socks
Knee-high gators
Lightweight sneakers or sandals for creek crossing and camp shoes
1 pair. Silk or wool long-johns top and bottom
1 pair. Mid-weight fleece or heavyweight long john top
1 each. Wool long sleeve shirt
Down jacket or vest
1 pair. Fleece or down pants
1 pair. Lightweight, fast drying pants. Wool or cotton-poly blend
High quality rain gear or waterproof hunting jacket and pants
Hat
Insulated gloves
Food
1 1/2 to 2 lbs of food per person per day. On a moose hunt, consider packing less food except for 2 or 3 days-worth of extra food for after the kill. This is when you will be working hard butchering and packing. If the weight limit allows, please bring one or two days extra food in case of bad weather.
Mountain House Freeze-Dried Meals
Energy bars/candy bars
Dried fruit
Granola/Gorp
Peanut Butter
Jerky
Instant Drink mix (Crystal-Light)
Instant Hot drink
Instant Hot-cereal
Instant soups and noodles
Salt and Pepper